Local News coverage in Coastal Maine
Careers at MaineStay Media
Managing Editor
THE FREE PRESS is  seeking an Editor to manage day-to-day operations of the editorial department, including but not limited to: generating story ideas, assigning work to Reporters, coaching Reporters, and copy editing staff-generated stories, letters to the editor, obituaries, calendar listings and press releases. The Editor guides Designers in the layout of the paper each week and oversees final editing of pages.
Show More
• This is a full-time, benefits eligible position.
• 3+ years of reporting or management
   experience preferred
• Computer literacy (word-processing, internet,
   social media, photo processing, video)
• Excellent written and verbal communication skills
• A comprehensive command of the elements of 
   AP style and English grammar and spelling
• Access to a vehicle/transportation
• Keyboarding/typing skills
• An attitude of professionalism
• People skills
• Outstanding time management, organization
Applicants should email résumé, cover letter and clips to:
Daniel Dunkle, Executive Editor,
No calls or walk-ins please.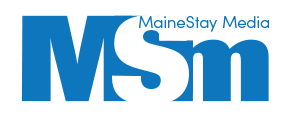 Advertising Account Executive
The MaineStay Media Group is seeking at least 4 experienced, motivated, result-driven outside sales account executives to cover Waldo, Knox, and Hancock and a portion of Washington Counties.
Show More
The successful applicant will provide exceptional client care to the existing book of customers; embrace cold calling and prospecting; demonstrate strong people skills; employ excellent organizational skills to meet critical deadlines, and have a strong commitment to meet and exceed all customer expectations while contributing to the overall growth of the publications.
Essential job functions:
Superior client care that meets and exceeds customer expectations
Maintain an existing book of client accounts
Nurturing existing customers
Continually grow the book of client accounts
Cold calling prospects in person, by phone, and email
Possess or develop proficiency in our account management platform
Coordination with clients and the composing team to provide assets and verbiage for ads by the submission deadline
Review, proof, and approve ad copy for and with the client as appropriate
Prefered Skillset
Proficiency with Microsoft Office Suite including Excel
Basic knowledge with the Google Suite of products
Excellent time management and organizational skills
Interested persons should send a cover letter and resume to:
Press Operator
The Ellsworth American has an opening for a press operator. The press operator will learn all aspects of running and maintaining our printing presses in Ellsworth.
Show More
​Essential Job Functions:
Learn and maintain all areas of the Pressroom and Platemaking operations including:
Prepping rolls of paper
Setting rollers in the press
Standard maintenance of press equipment
All functions to work on the press, folders and press controls
The Ideal Candidate will possess:
Mechanical aptitude and understanding
Previous experience working with machinery
Reliability and commitment to hands-on training, Willingness to learn
Attention to detail
Works safely and follows safety procedures
You must be 16 years or older to apply. Please download and fill out an application and return to 1 Printing House Square, Ellsworth.
Mailroom Clerk – Part-time position(s) available
Part-time, year round. No evenings or weekends. Operating high-speed inserting machinery, assembling and strapping newspapers and loading newspaper bundles into carts in our downtown Ellsworth production plant.
Show More
This position requires moderate lifting (30-40 lbs). Must be reliable. You must be 16 years or older to apply. Please download and fill out an application and return to 1 Printing House Square, Ellsworth.